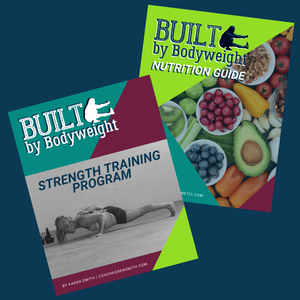 Ebook - BUILT by BODYWEIGHT program
Regular price $0.00 $127.00 Sale
BUILT by Bodyweight is a program designed to help everyone increase their foundation of bodyweight strength. Whether you are a beginner to bodyweight or have previous experience, this program can be used by all fitness levels to increase your strength.


Ebook consist of:
12 week Program (3 sessions per week)

Written Exercise Instruction


Demo Videos

Guided Session Templates

Printable Session Tracker

Private Facebook Group
And a Bonus Nutrition Plan
Bodyweight Training can be done anytime, anywhere by anyone! 
It is my goal to help as many people as possible gain a better understanding of how to use their body as a strength tool.  

Bodyweight skills make life easier as you do not need to worry about purchasing any equipment, but equipment can be added as desired should you have it readily available. By teaching you to master bodyweight, you can become stronger and increase the stability of your joints. 
Each exercise in this program has many progressions/regressions to meet you where you are. I look forward to hearing about your progress during your BUILT by Bodyweight journey.
ADDED BONUS: 
With Your Program Download you also receive a Full Nutrition Plan Ebook (61 pages of content) designed by my colleague and training parter Becky Williams.